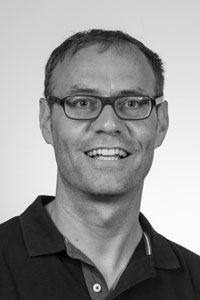 Severin
Haug
, PD Dr. Dr. Dipl.-Psych.
Phone: +41 44 448 11 74
Prevention and treatment of common diseases using information and communication technologies
Addiction prevention and treatment
Tobacco smoking and alcohol consumption among adolescents and young adults
Epidemiology, evaluation and quality assurance
Curriculum vitae
Severin Haug, PD Dr. rer. med. habil. Dr. phil. Dipl.-Psych., studied psychology at the Eberhard Karls University of Tübingen. He worked as a research assistant at the Centre for Psychotherapy Research at the University Hospital in Heidelberg from 1996-2001 and completed his dissertation entitled "New media - new possibilities in psychotherapy process research" at the Friedrich Schiller University Jena in 2006. From 2006 to 2010, he was a research assistant at the Institute of Social Medicine and Prevention at Greifswald University Medical Centre.
Since 2010, he is Head of Research at the Swiss Research Institute for Public Health and Addiction (ISGF) in Zurich and a lecturer at the medical faculty of the Ernst Moritz Arndt University of Greifswald, where he habilitated in 2014 with the topic "Optimisation of computer-supported individualised interventions to promote smoking abstinence and to reduce alcohol consumption" for the teaching area "Epidemiology and Social Medicine".
Severin Haug is editor of the journal "Sucht - Zeitschrift für Wissenschaft und Praxis" (Addiction - Journal for Science and Practice) and provided ad hoc reviews for more than 60 national and international scientific journals.